Download a printer-friendly PDF
of our station list.
---
Station News / Updates
If your station is off the air, and you don't see a notice about it on this page, please
let us know
.
Elk City, OK Off Air
December 8, 2015
Our station in Elk City, Oklahoma is off the air due to the tower collapsing from ice. Check back for updates on rebuilding.
---
FM Reception Help
Car Stereos
Many new car stereos, especially manufacturer-installed stereos, do not have high quality FM tuners. But, before you consider replacing your car stereo, you should check a few things:
Make sure that your antenna is installed, and connected to the stereo
If the antenna is broken, you may need to replace your antenna
If the antenna is retractable, make sure that it is fully extended
We recommend replacing your car stereo, if none of the options above improve your FM reception. Some of the highest quality, and most affordable FM receiver car stereos are made by Pioneer, and feature their "Super Tuner III-D." The Super Tuner III-D is capable of distinguishing weak signals, and cutting interference from surrounding FM stations. We have provided a link to a Pioneer Super Tuner III-D stereo, with a built-in MP3 CD player and auxilary input for an external mp3 player. Many other Pioneer stereos come with the Super Tuner III-D, but you will need to verify that for each individual model.
Shop at Amazon.com:

Pioneer DEH-1200MP CD Receiver with MP3/WMA Playback and Remote Control
Portable Radios
Most portable radios are not capable of picking up weak signals, and many of our translator stations are broadcasting at a significantly lower power than other local stations. We are, in fact, operating our translator stations at their licensed power, and we legally cannot increase the power. Therefore, you may need to make some adjustments to your portable radio, or possibly buy a better one.
Here's a few things to consider, before buying a new portable radio:
Radios with digital tuners will almost always perform better than those with a rotary dial.
Sometimes, fully extending the radio antenna is not the best way to increase signal quality. Separate radio frequencies have different wavelengths, and extending or retracting the antenna to closer match the actual wavelength of the frequency you're trying to tune-in, may make a difference, as well as moving the antenna in different directions.
Try placing your radio in different areas in your house or office, as the building you are in will affect your overall reception.
Do not place a portable radio next to other electronics, such as computers, monitors, or TVs. These other electronic devices will usually cause interference, and reduce signal quality on your portable radio, if placed together too closely.
Here are 2 portable radios that we've found to have superior reception. We cannot guarantee that these radios will be able to pick up your local translator station, but if these are incapable, then you probably will not be able to pick up the station on any portable radio in your location.
Shop at Amazon.com:
Grundig G6 Aviator Buzz Aldrin Edition AM/FM, Aircraft band and Shortwave Radio
Sony ICFS79W AM/FM/Weather Band Digital Tuner Shower Radio
Home Theatre Audio Systems
If your home theatre system has an AM/FM receiver built in, you will usually need to also connect it to an external antenna. If you already have an antenna installed for your TV, you can get a signal splitter, to also send the antenna signal to your AM/FM receiver. If the antenna signal is weak, you may also need a signal amplifier, which should be installed in the coax cable, before the signal is split.
The best reception will be with a roof-mounted antenna. If you are near the broadcast towers of the TV and radio signals you are trying to receive, you might get sufficient reception with an antenna installed in the attic. Regardless of where the antenna is mounted, you will need to determine where the broadcast towers are located, and point your antenna in that direction, as indicated in the manual for your antenna.
Shop at Walmart.com:
RCA Outdoor 60 Mile Antenna With Mast - UHF, VHF and HDTV
RCA 10dB Video Signal Amplifier
Verse of the Day
February 12, 2016
If I have the gift of prophecy, and know all mysteries and all knowledge; and if I have all faith, so as to remove mountains, but do not have love, I am nothing.
1 Corinthians 13:2

Support Effect Radio

Effect Radio is listener-supported. Your support helps to keep us on the air.
T-Shirts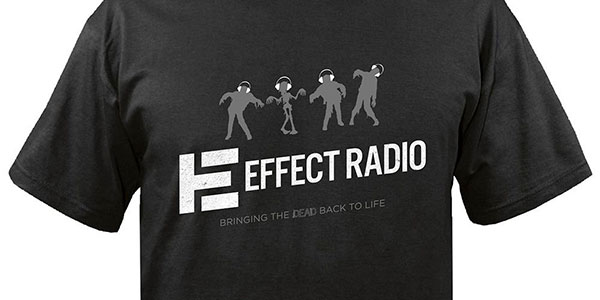 GET ONE